Finance Minister Nirmala Sitharaman said that starting today, she will hold daily pressers along with her teams to detail a number of responses the government has prepared to bring the economy back on track.
Deadline for filing ITR pushed till 30 Nov
Due date of all IT Return filings extended have been extended from 31 July to 30 November. The last date for Vivad se Vishwas one-time tax settlement scheme has also been extended till 31 December, finance minister Nirmala Sitharaman announced.
TDS and TCS rates Cut by 25%
Government to infuse Rs 50,000 crores liquidity by reducing rates of TDS, for non-salaried specified payments made to residents, and rates of Tax Collection at Source for specified receipts, by 25% of the existing rates.
Public sector units to extend deadlines for contractors
In order to provide relief to contractors, the finance ministry announced the extension of up to 6 months by all central agencies like Railways, Ministry of Road Transport and Highways, Central Public Works departments. This will cover construction work and goods and services contracts, completion of works and intermediate milestones, and also concessional period in PPP contracts. To facilitate greater liquidity, government agencies will partially release bank guarantees to the extent of the completed contract so that cash flow improves.
Centre slashes statutory PF contribution to 10%
Finance Minister Nirmala Sitharaman announced that the statutory PF contribution is being reduced from 12 percent to 10 percent. So, for the next three months, employers need to pay only 10 percent towards their PF. This is being done to increase the take-home salary for employees.
Government announces Rs. 90,000 crore liquidity injection for DISCOMs
Keeping in view that the earnings of the Power Distribution companies had plummeted, the government has provisioned for loans for them against state guarantees. This will be done exclusively for the purpose of clearing the dues of power generation companies.
To give a fillip to DISCOMs with plummeting revenue and facing an unprecedented cash flow problem, Government announces Rs. 90,000 Crore Liquidity Injection for DISCOMs.
Here are the details of support planned for EPF establishments:
In order to provide more take home salary for employees and to give relief to employers in payment of PF, EPF contribution is being reduced for Businesses & Workers for 3 months, amounting to a liquidity support of Rs 6750 crores.
Govt extends support on EPF for eligible firms till August
The government also decided to extend the previous measures announced under PM Garib Kalyan Yojna for another three months. This means that government will pay the employer's share for firms with 100 staff, earning less than Rs 15,000, till August. Nearly 3.6 lakh establishments are expected to benefit by this. This should provide Rs 2500 crore liquidity.
Govt disallows global tenders in govt procurement upto Rs 200 cr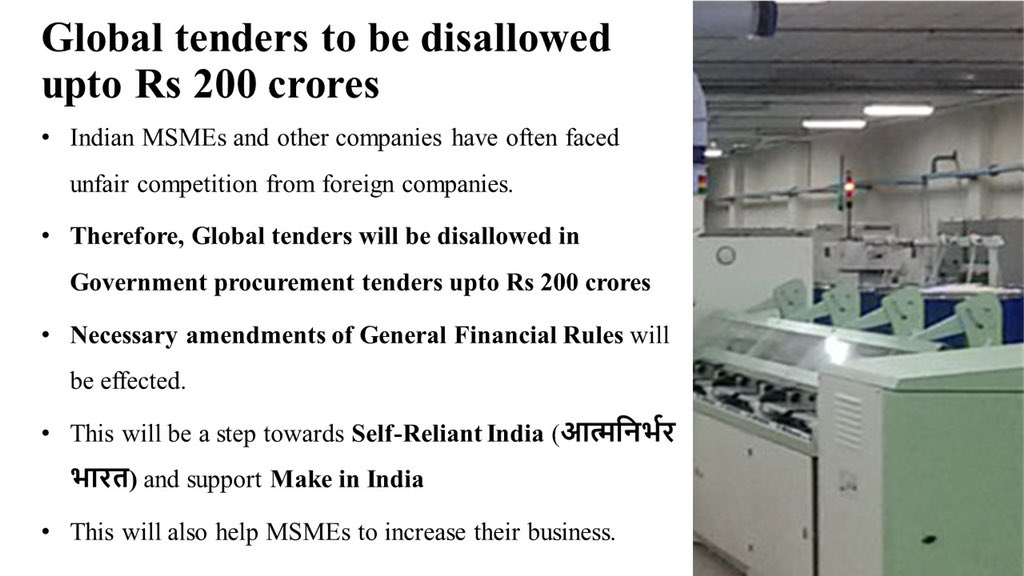 FM announces Rs 50,000 cr equity infusion for growing MSMEs
Finance Minister Nirmala Sitharaman announced a corpus of Rs 10,000 crore though mother-fund and daughter-fund framework.
"For MSMEs needing handholding, a Rs 50,000 crore 'fund of funds' through 'mother fund – daughter fund' framework is being created, to expand their capacity and to get listed on markets which they choose," Sitharaman said.
Govt to redefine MSMEs, says investment limit revised upwards to Rs 1 crore
"The definition of MSMEs is being changed for their advantage so that they can grow in size and get benefits. Investment limit which defined MSMEs have been revised upwards. Additional criteria being brought in is turnover size – earlier differentiation between manufacturing and service MSMEs will be categorised similarly," says Sitharaman.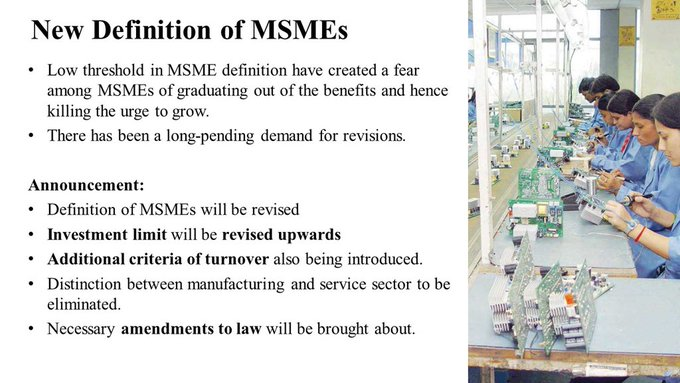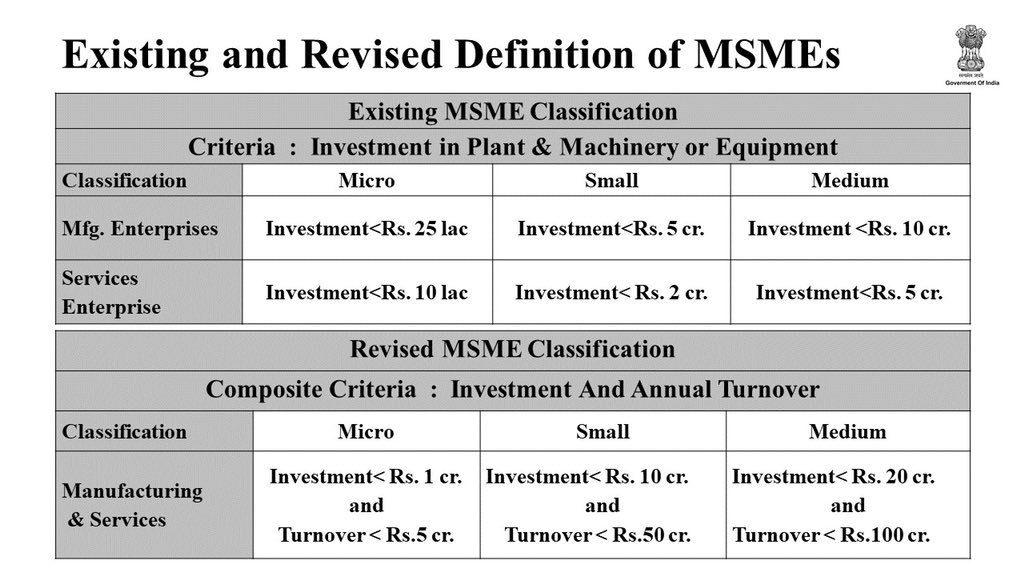 Centre allots Rs 3 lakh crore for collateral free automatic loan for MSMEs
The Finance Minister announced that Rs 3 lakh crore will be made available for collateral free loan for those MSME units which have Rs 25 crore outstanding loan payments or Rs 100 crore turnover. These loans will be avaialable with a 4-year tenure and a moratorium of 12 months. The move is expected to benefit 45 lakh units.
""This loan is for 4 year tenure and is 100 per cent guaranteed. This will last till October 21, 2020. It will benefit 45 lakh units, allowing them to resume activity and safeguarding jobs," Sitharaman said.
We are providing practical training (Labor Laws, Payroll, Salary Structure, PF-ESI Challan) and Labor Law, Payroll Consultant Service & more:
To get connected & for latest HR, IR, Labor Law Updates: