This year, COVID-19 shook the core paradigms of work and pushed organizations around the world to navigate an unprecedented time full of uncertainty and change. To minimize disruption and business impact, organizations looked towards HR to play a leading role with strategies to effectively manage the workforce with remote working becoming the norm.
To understand how HR organizations around the world are responding to the crisis, KPMG conducted the 2020 HR Pulse Survey which captured the perspectives of almost 1,300 HR executives around the world on managing the continued uncertainties through insights into how HR is re-thinking in the areas of Workforce-Shaping, Purpose Driven Culture, Employee Experience, Data & Analytics, Enabling Technology and HR Organization of the future.
Key highlights of the survey are:
• 95 percent of CHROs feel that HR has played a leading role in their organization's response to the impacts of COVID-19
• 62 percent of respondents say a skills shortage is preventing their organization from keeping up with the pace of change
• 60 percent CHROs feel that their HR function needs to completely reinvent and transform itself
• 54 percent of respondents ranked investing in new learning and development platforms and virtual working technologies among top technology investment priorities
• 39 percent of respondents reveal that their organizations will continue to work remotely
• 38 percent of HR respondents are helping leaders in their organizations develop new management and leadership skills to support remote working

Vishalli Dongrie, Partner & Head – People and Change, KPMG in India says, "The COVID-19 pandemic made people the number one priority for organizations around the world. As a result, HR emerged as a critical business partner and was brought to the forefront to guide the organization in managing its workforce, which faced a sudden and dramatic change in working circumstances. The impediments to physical connect made remote working a mandate, which challenged many pre-existing paradigms pertaining to driving workforce engagement and performance. Businesses around the world were compelled to become more digital to ensure their workforce remains connected and productive, even with the altered ways of working. To support business, HR prioritized workforce re-skilling and up-skilling and transforming talent management for a virtually operational workforce. To help organizations maneuver an economic downturn, HR had to wear its strategic hat and partner in business decision-making, keeping people at the core and pivoting on evolving financial imperatives."
She further added that after having successfully led the workforce through the crisis, it is now time for HR to focus on the long-run and to establish itself as a preeminent value driver for business. The changes brought on by the new reality requires HR to rethink its role in the organization. HR functions need to bring lasting business value by building the workforce needed to compete in a digital future and driving performance across the enterprise by getting the most from people and technology. To drive success in the future, business requires the support of a transformed HR function- one that is more digital, is more integral to business than ever, that drives a culture of innovation, and enables newer ways of collaboration.
The pandemic has amplified many of the challenges already facing the organizations and has also exposed the need for workforce re-skilling, maintaining positive employee experiences and accelerating digital transformation. While HR has taken the center stage in guiding the organization towards managing the crisis effectively, there is a need for HR to re-invent itself to be able to add lasting business value by building the workforce needed to compete in a digital future.
In this direction, the survey highlighted that HR priorities for both the overall sample as well as Pathfinder organizations whose HR functions demonstrate excellence across several key areas, including updating virtual learning platforms and investing in virtual working technology over the next 12-24 months.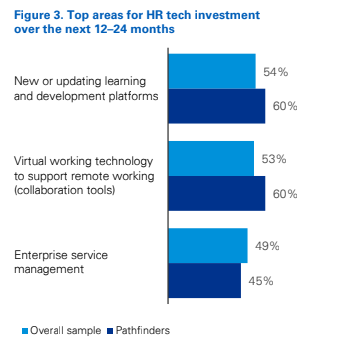 We are providing practical training (Labor Laws, Payroll, Salary Structure, PF-ESI Challan) and Labor Law, Payroll Consultant Service & more:
Get Latest HR, IR, Labor Law Updates, Case Studies & Regular Updates: (Join us on Social Media)